FREE BIBLE STUDY COURSE

To begin this free 15-lesson Open Bible Studies Correspondence Course with no obligation, please fill out the form below. A list of topics, a sample question, and information regarding which Bible translation to use has been provided below to give you a sense of what the course is like. Once you submit the form, we will email you lesson # 1. May God bless you as deepen your understanding of His Word!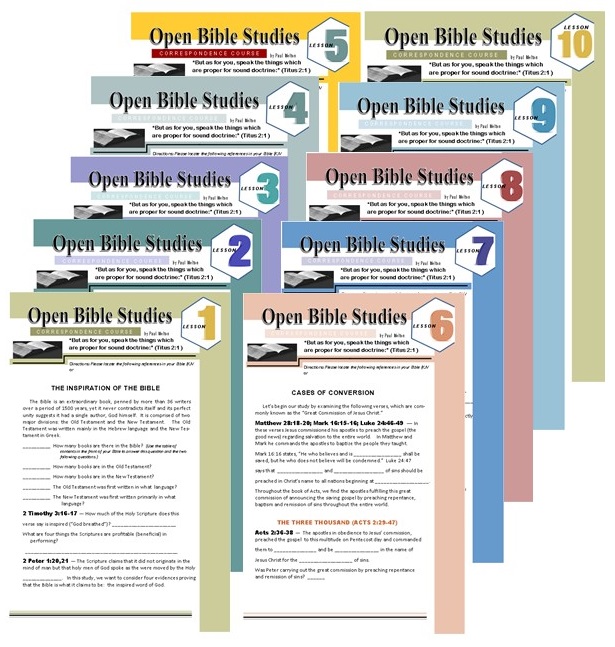 Lessons 1 thru 7:
You will explore how we know the Bible is divinely inspired, how to interpret the Bible, how to be free from guilt, and have a new life thru Christ.
Lessons 8 thru 15:
You will learn about the five avenues of acceptable worship, and how to offer worship to God "in Spirit and in the truth" (John 4:24). 
FREE AND WITHOUT OBLIGATION
Each lesson will deepen your understanding of what the Bible teaches concerning  the following topics: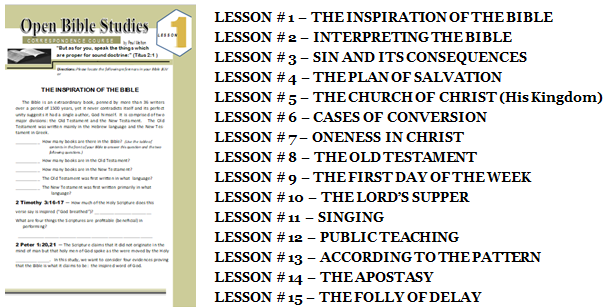 Unlike many Bible study courses in which you read an essay and then answer questions at the end based on the reading, this course requires you to open your Bible (King James or New King James Version) and answer questions based directly on what you read in the Sacred Text. In this way, you can let God speak to you directly through His Word and understand his will for your life.

SAMPLE QUESTION FROM LESSON 1:

May God richly bless you as you discover His will for your life!  Please do not hesitate to contact us if a question in the Bible study lesson is unclear or that you would like to discuss further.  We are here to assist you with any question you might have.
Click here to begin Open Bible Studies correspondence course.